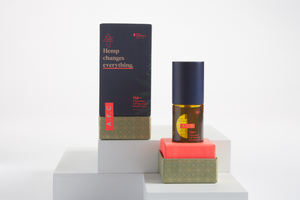 AFC CBD Extract 750mg
Sale price Price $80.00 Regular price Unit price / per
Your Daily Full-Spectrum Hemp Extract
A balanced, everyday supplement perfect for the newly cbd-aware and as an essential supplement to your endocannabinoid system. Great for daily wellness and smoothing over life's typical bumps and bruises.
The Details
Every body is unique — the amount needed per dosage of AFC Hemp Extracts  is a personal decision. Daily use is recommended and listening to your body to determine what works for you is the best tactic.
Suggested Use: Start Low and Go Slow.
Adults should begin by taking 2-4 pumps (6.5mg-13mg) orally per day. You may increase 2-3 times daily until you get desired results, or as recommended by a physician. 
Serving Size: 4 pumps (13mg) 2-3 times daily.
Servings Per Container: 58* (225* total pumps) *Estimated pumps
Bottle Size: 1oz/30ml
Ingredients: Full Spectrum Hemp Extract (aerial parts), hemp terpenes, flavonoids, aldehydes, ketones, Suspended in Organic MCT Oil.
Terpines in our extract: Beta-myrcene, Alpha-bisabolol, Linalool, Beta-caryophylleneGuaiol, Alpha-humulene, P-cymene, Camphene, Beta-pinene, Eucalyptol, Alpha-pinene, D-Limonene, Cis-beta-ocimene, Terpinolene 
Whole Plant Compounds in our FSO Hemp Extract: CBD-Cannabidiol, CBDV-Cannabidivarian, CBG- Cannabigerol, CBC- Cannabichromene, **THC-D9-tetrahydrocannabinol.

**This product contains a total delta-9 tetrahydrocannabinol that does not exceed .3% on a dry weight basis.
New Spray Delivery System: AFC has ditched the dropper for a smarter oral delivery system. Our one-hand spray pump was designed by us for more precise dosing and easier dose calculation, and it also keeps your oil from becoming contaminated. Spray directly in the mouth, onto food, or topically on achy body parts. 
Note: Pop the wooden cap off; don't twist. Make sure the silver spray pump is closed tight and enjoy it on the go!

STORAGE: Store in a cool, dark and dry place, or in the AFC box. It's not just pretty, it keeps AFC's cannabinoids away from damaging light.
General Warning: Not to be used during pregnancy or lactation. If you have a medical condition or take pharmaceutical drugs, please consult your physician before use. Keep out of the reach of children. 
The following statements have not been evaluated by the Food and Drug Administration. This product is not intended to diagnose, treat, cure, or prevent any disease. Please consume responsibly.
Real Science. Honest CBD.
Made better, from soil to oil.
We start with better seeds and better seed genetics.
All A.F.C hemp oil is sun grown and derived from superior seeds Certified by the Colorado Department of Agriculture as consistently low in THC. Ensured Non-GMO, vegan, kosher, cruelty free and free from metals and pesticides.
We believe in transparency, from seed to sail, soil to oil.
Quality controlled and rigorously tested multiple times at all stages of their journey from seed to extraction to bottling. Assured to be pure and true to our Purity & Potency Promise.
We create a full-spectrum, product without compromise.
Every AFC product uses the whole-spectrum hemp extract — the arial parts of the hemp flower, not simply the seeds and stalks.  This means that CBD together with other compounds can support the body more fully than the isolated CBD molecule.
We use better science to develop better product
Our products are CO2 extracted and manufactured in an (cGMP) Current Good Manufacturing Practice certified facility in the U.S. to extract the good stuff from our good hemp in a clean,  non-toxic way.

Hemp could change your life today.