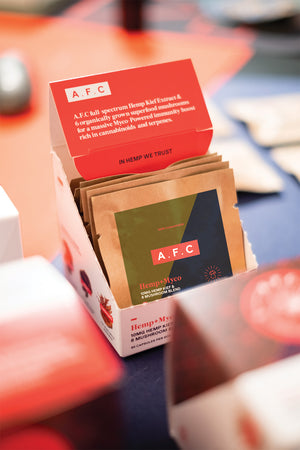 A.F.C Hemp+Myco "On The Go" Capsules - 90 Capsules
Sale price Price $90.00 Regular price $112.50 Unit price / per
Superfood for "On The Go" Wellness Seekers
A.F.C full-spectrum hemp kief and 6 organically grown superfood mushrooms for a massive myco-powered immunity boost rich in cannabinoids and terpenes. Comes in easy to swallow capsules packaged in 10 capsule biodegradable pouch.
The Details
Myco = Magnificent Mushrooms. Our blend of 6 mushrooms is gluten free, organically grown, and packaged sustainably. ( agarikon, chaga, cordyceps, lion's mane, reishi, turkey tail)
Ancient Agarikon to calm inflammation and open airways

Mighty Cordyceps for sharp wits and staying power
Calming Lion's Mane for daily stresses
Versatile Reishi for a clear mind and allergy relief
Earthy Chaga for a full-body boost
Vigilant Turkey Tail to fight sickness and promote digestion

Suggested Use: Take 1-3 Capsules daily, or as directed by your healthcare practitioner. 
Servings Per Container: 90 capsules / 10 caps per pouch
Servings Size: 1 capsule = 10mg CBD + 470mg Mushroom Blend
Ingredients: Full Spectrum Solventless Hemp Kief (aerial parts), Vegan Capsules, Mushroom Blend (agarikon, chaga, cordyceps, lion's mane, reishi, turkey tail) Tapioca Starch
Terpines in our extract: Beta-myrcene, Alpha-bisabolol, Linalool, Beta-caryophylleneGuaiol, Alpha-humulene, P-cymene, Camphene, Beta-pinene, Eucalyptol, Alpha-pinene, D-Limonene, Cis-beta-ocimene, Terpinolene  
**This product contains a total delta-9 tetrahydrocannabinol that does not exceed .3% on a dry weight basis.
STORAGE: Store in a cool, dark and dry place, or in the accompanying (very cool) mushroom material box. Keep it where you will use it daily!!!
General Warning: Not to be used during pregnancy or lactation. If you have a medical condition or take pharmaceutical drugs, please consult your physician before use. Keep out of the reach of children. 
The following statements have not been evaluated by the Food and Drug Administration. This product is not intended to diagnose, treat, cure, or prevent any disease. Please consume responsibly.
Real Science. Honest CBD.
Made better, from soil to oil.
We start with better seeds and better seed genetics.
All A.F.C hemp oil is sun grown and derived from superior seeds Certified by the Colorado Department of Agriculture as consistently low in THC. Ensured Non-GMO, vegan, kosher, cruelty free and free from metals and pesticides.
We believe in transparency, from seed to sail, soil to oil.
Quality controlled and rigorously tested multiple times at all stages of their journey from seed to extraction to bottling. Assured to be pure and true to our Purity & Potency Promise.
We create a full-spectrum, product without compromise.
Every AFC product uses the whole-spectrum hemp extract — the arial parts of the hemp flower, not simply the seeds and stalks.  This means that CBD together with other compounds can support the body more fully than the isolated CBD molecule.
We use better science to develop better product
Our products are CO2 extracted and manufactured in an (cGMP) Current Good Manufacturing Practice certified facility in the U.S. to extract the good stuff from our good hemp in a clean,  non-toxic way.

Hemp could change your life today.