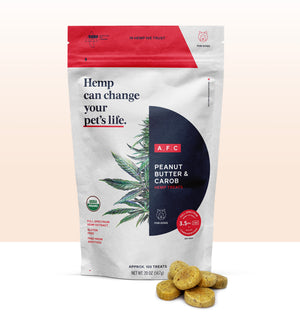 A.F.C PEANUT BUTTER & CAROB (For Dogs) Approx. 100
Sale price Price $106.00 Regular price Unit price / per
Good-For-Them Treats for Good Boys and Girls

Peanut butter is a dog's best friend. And of course, your dog is yours. Treat them to a tasty, terpene-rich morsel packed with endocannabinoid boosting elements. Made with USDA organic ingredients good enough to beg for.

The Details
For dogs of all shapes and sizes.
Suggested Use:
9-14lbs: ½ treat

15-29 lbs:1 treat

30-44 lbs: 2 treats

45-59 lbs: 3 treats

60-84 lbs: 4 treats

85-120 lbs: 5-7 treats
Servings Per Bag: Approximately 100 cookies

Ingredients: white rice flour, natural peanut butter, potato starch, MCT coconut oil, flax seed, brown rice flour, carob powder, maca powder, ginger, trace minerals, guar gum.
Terpines in our extract: Beta-myrcene, Alpha-bisabolol, Linalool, Beta-caryophylleneGuaiol, Alpha-humulene, P-cymene, Camphene, Beta-pinene, Eucalyptol, Alpha-pinene, D-Limonene, Cis-beta-ocimene, Terpinolene 
Whole Plant Compounds in our FSO Hemp Extract: CBD-Cannabidiol, CBDV-Cannabidivarian, CBG- Cannabigerol, CBC- Cannabichromene, **THC-D9-tetrahydrocannabinol.

**This product contains a total delta-9 tetrahydrocannabinol that does not exceed .3% on a dry weight basis.
Storage: Store in a cool, dark and dry place, or in the AFC ziplock boag. It's not just pretty, it keeps AFC's cannabinoids away from damaging light.
General Warning: If your pet has a medical condition or takes pharmaceutical drugs, please consult your veterinarian before use.
The following statements have not been evaluated by the Food and Drug Administration. This product is not intended to diagnose, treat, cure, or prevent any disease. Please consume responsibly.
Real Science. Honest CBD.
Made better, from soil to oil.
We start with better seeds and better seed genetics.
All A.F.C hemp oil is sun grown and derived from superior seeds Certified by the Colorado Department of Agriculture as consistently low in THC. Ensured Non-GMO, vegan, kosher, cruelty free and free from metals and pesticides.
We believe in transparency, from seed to sail, soil to oil.
Quality controlled and rigorously tested multiple times at all stages of their journey from seed to extraction to bottling. Assured to be pure and true to our Purity & Potency Promise.
We create a full-spectrum, product without compromise.
Every AFC product uses the whole-spectrum hemp extract — the arial parts of the hemp flower, not simply the seeds and stalks.  This means that CBD together with other compounds can support the body more fully than the isolated CBD molecule.
We use better science to develop better product
Our products are CO2 extracted and manufactured in an (cGMP) Current Good Manufacturing Practice certified facility in the U.S. to extract the good stuff from our good hemp in a clean,  non-toxic way.

Hemp could change your life today.